Description
15 per order
These ain't your grandma's caramels. (Although maybe they should be.)
20mg D9 Vanilla Cream Caramels from Herban Bud are soft and chewy, just like they're supposed to be. But these little treats have something special in their wrappers…20mg of ultra high-quality Delta-9 THC.
The result? A whole new level of caramel comfort.
And not to toot our own horns too much…but they're also award winners, selected as best-in-class by both the Errl Cup and Edibles List Magazine. Check it:
2020 Errl Cup: Top 20 Edibles
2019 Errl Cup Secret Shopper: Best Edible
2020 Edibles List Magazine: Best Hybrid THC Edible
2020 Edibles List Magazine: Best Caramel/Toffee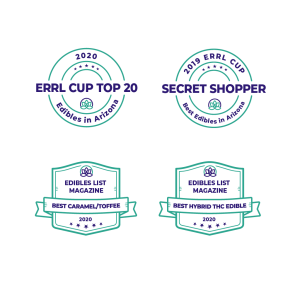 These creamy caramels are 2018 Farm Bill compliant, each containing less than 0.3% hemp-derived Delta-9 THC by dry weight volume. That means they're 100% federally LEGAL.